A recent study into the benefits of Neptune krill oil makes the claim that taking this one affordable supplement has the potential to reduce CRP levels by 29.7%!
But is this science fact or just more fishy snake oil?
Here I share the scientific evidence which suggests these gains are achievable now! Furthermore, taking Neptune krill oil (NKO) could deliver significant reductions in stiffness and levels of joint pain, leading to increased mobility and a better quality of life.
The Krill oil study
Ninety patients suffering with either osteoarthritis, rheumatoid arthritis, or heart disease (inflammation is a major factor in heart disease) took part in a study to assess the effectiveness of Neptune krill oil on reducing their CRP levels.
All of the patients suffered with elevated levels of CRP in their blood of at least 1 mg/dl before the trial started.
Half of the participants were treated with a dose of 300 mg krill oil per day whilst the second group were given a placebo. The two groups were then tested for CRP levels at 7 days, 14 days, and 30 day intervals.
The researchers were staggered to find that the results showed CRP levels were reduced by 19.3% after 7 days of taking Neptune krill oil, compared to an increase of 15.7% in the placebo group over the same period.
Better still, after 14 days of treatment with Neptune krill oil CRP levels were further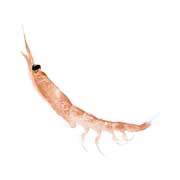 reduced to 29.7%.
The NKO group continued to show improvements with overall reductions in CRP levels maxing out an impressive 30.9%.
The placebo group fared less well and reported CRP increases of up to 32.1% on day 14, and then a slight reduction down to 25.1% at 30 days.
Reduction in "womac" pain scores
The study used the WOMAC osteoarthritis score (Western Ontario and McMaster Universities, WOMAC) to measure the effects of Neptune krill oil on joint mobility, joint stiffness, and reduced functional impairment.
After a 7 day period the participants reported that NKO reduced pain scores by 28.9%, reduced stiffness by 20.3%, and reduced functional impairment by 22.8%.
What on earth is CRP?
For those of you new to the inflammation game, C reactive protein is a protein found in the blood of people with chronic inflammatory conditions.
Health professionals around the world measure CRP concentrations to determine if a person has rheumatoid arthritis and other inflammatory diseases.
If you live in the United Kingdom, and have needed to have blood tests for an inflammatory arthritic condition, you will have had tests for CRP.
The NHS have been using CRP and other inflammatory marker tests as the standard RA test for many years.
Blood test can be scary enough for us before we get to the docs office, coming home with terrifyingly high CRP numbers can leave us feeling even more freaked out.
My own CRP numbers were very high in the beginning, but we need not fear! There are many things we can do to reduce our CRP levels, including changing our diet.
One easy actions we can take is adding NKO krill oil to our daily supplement regime. This affordable, convenient, and easy to take supplement should be something on your "to try" supplement list. Adding NKO to your regime is not only super easy, it is also highly unlikely to react with anything else your taking.
I consider this supplement a great starting point to getting those pesky CRP numbers as low as possible.
More Krill oil benefits
Anyone looking for a source of omega 3's might assume all fish oil supplements and Omega's are much the same. They are not.
To demonstrate this point we have this very revealing study which emphatically states krill oil is a far superior source of healthy fats. Not only are Krill oil fats better for your joints, they also lower cholesterol and keep your heart healthy.
The results of the study conclusively show that taking 1-3g of Krill oil per day could reduce Glucose, total cholesterol, triglycerides, LDL and HDL when compared to fish oil and placebo.
The conclusions the paper went on to make were the most exciting of all, and used language rarely heard in these kinds of studies.
Quote
"The results of the study demonstrate within high levels of confidence that krill oil is effective for the management of hyperlipidemia by significantly reducing total cholesterol, LDL, and triglycerides, and increasing HDL levels. At lower and equal doses, krill oil was significantly more effective than fish oil for the reduction of glucose, triglycerides, and LDL levels."
I think you'll agree that statement is about as strong a statement as you'll ever see written in a scientific paper.
Conclusion on Neptune krill oil
The results of these studies are clearly very important. They appear to show that taking 300 mg NKO daily can significantly reduce CRP levels, inflammation, and soothe arthritic symptoms in 7 to 14 days.
Upping that dose to 1-3 g of krill oil daily can also give significant heart health benefits.
NKO is also exceptionally highly bioavailable and free from mercury and other contaminants.
Have you taken NKO?
I would love to hear your thoughts and experiences of the efficacy of NKO.
We are all different and unique inside, and I would love to hear your thoughts on how this supplement has affected your health.
Please feel free to leave a comment and lets work together to find the facts.
One positive study doesn't mean this supplement is a cure all for arthritis, but if we share our information, together we may be able to work out how what affect NKO has on us as a group.
Do you Want to reduce C reactive protein levels by 29.7%? Just give it a try!
Resources
https://www.ncbi.nlm.nih.gov/pubmed/17353582
https://www.ncbi.nlm.nih.gov/pubmed/15656713