Celery juice is a  refreshing drink that can help change the course of inflammatory arthritis. Here I explain the Spectacular Celery juice benefits for arthritis you can expect from this wonderfully anti-inflammatory vegetable, and why should you be drinking celery juice as part of your arthritis recovery plan.
The benefits of celery juice
Celery juice is a veritable fountain of vitamins, minerals, and nutrients. Its abundance of antioxidants and anti-inflammatory compounds can help reduce swelling, inflammation, and pain associated with an array of conditions.
It's an excellent source of Vitamin A, Vitamin C, Calcium, and Iron which provide numerous health benefits. Studies have shown that celery juice can help lower blood pressure, reduce cholesterol levels, and risk of cardiovascular disease.
Drinking celery juice can help to keep your digestion on track by balancing gut flora and supporting the digestive process. Additionally, it will detoxify your body of toxins, resulting in increased levels of energy as well as improved immunity. Using this simple yet powerful remedy may be a great way to boost overall vitality!
Recommended by the grandaddy of juicing
Dr. Norman Walker started prescribing a combination of various fruit and vegetable juices for arthritis, including celery juice, in his book fresh vegetable and fruit juices way back in 1937. Walker spoke at length of the celery juice benefits in disease and was, without doubt, the most vocal advocate of celery juice in the early part of the century.
In the book, he claims arthritis is a result of eating excess concentrated carbohydrates (processed food) coupled with the body's inability to rid itself of the inorganic calcium from these nutritionally dead foods. He goes further by stating that inorganic calcium from processed foods is stored in the joints and that drinking fruit and vegetable juices can reduce calcium deposits from the joints.
Dr. Norman Walker claims to have cured thousands of people with his anti-arthritis protocol. Unfortunately, we don't have any of those original patients around to confirm those claims, but we do have the testimony of hundreds of people on the internet who report the many positive Celery juice benefits. Including me! Don't have a juicer? Check out our posts on juicers here.
What does the Dr Norman Waker protocol consist of?
The Doctor Norman Walker Juicing Program is a comprehensive program devised by Dr. Norman Walker to help people optimize their health and well-being. The program involves drinking fresh, raw vegetable and fruit juices every day and eating whole foods. Dr. Walker believed that juicing offered the most effective way to increase nutrient intake in the body
The protocol consists of drinking 5 pints of juice per day, made up of a mixture of the following:
Celery juice
Carrot
Watercress
Grapefruit juice
Carrot and spinach juice
Carrot and celery juice
Beetroot juice
Cucumber juice
Last year I did a 20-day Dr Norman Walker juice challenge where I followed the protocol as closely as I could. The experience was filmed and I might have to edit that and add it to youtube to show you the benefits I was feeling and to demonstrate how rigorously I followed the plan.
My arthritis did respond positively to taking celery juice and I found the most benefit in my hands and upper body joints.
I guess this would always be the case because my upper body joints are more challenged than my lower joints. This is the case with most arthritis patients simply because most people move their arms less than their legs.
Drinking the prescribed five pints of juice a day was almost impossible to fit into my daily regime whilst I was working, but I did receive good benefits and my skin felt amazing!
Forcing myself to drink pint after pint of juice, especially when my schedule got interrupted, made me feel quite rough but my arthritis did improve.
What I can report is that drinking cold-pressed organic celery juice always gives me great energy and makes my arthritis feel much better.
Scientific evidence suggests the organic nature of the sodium contained in celery juice is the main driver behind the incredible celery juice benefits spoken of by many.
How Does Celery Fight Inflammation?
Celery contains an important defender against inflammation called polyacetylene which is responsible in some part for the celery juice benefits reported by those who swear by it.
A Korean study found that polyacetylene inhibits macrophage production of lipopolysaccharide (LPS)-induced proinflammatory cytokines IL-1β and TNF-a. Furthermore, lipopolysaccharide-induced NF-kB activity was shown to be decreased by treatment with polyacetylene.
The study also looked at the antibacterial properties of polyacetylene and found it significantly inhibited the growth of E. coli and  S. aureus bacteria.
Decreasing bacterial burden on the body can only be a good thing when we're trying to reduce inflammation. By reducing bacterial load we ease the immune systems total workload and allow it to get on with the important work of fighting disease.
Positive effects on macrophages
Macrophages are a type of immune cell that plays a critical role in the body's defense against infections and other foreign substances. However, when they become overactive, they can trigger chronic inflammation, leading to tissue damage and various health problems.
Nitric oxide is a signaling molecule that plays a role in many physiological processes, including the immune response. In macrophages, it can promote inflammation by increasing the production of pro-inflammatory cytokines and other signaling molecules.
Research has suggested that celery juice may help suppress nitric oxide production in macrophages, thereby reducing inflammation. One study found that celery juice extract reduced nitric oxide production in lipopolysaccharide-stimulated macrophages, leading to reduced inflammation in the body.
More celery juice goodies
Mannitol and phytosterols found in celery have been shown to reduce inflammation in mice in this study. Interestingly, the study also points to another more significant anti-inflammatory agent being at work but didn't identify what that was?
I would think some of that action has been mentioned above in polyacetylene and Luteolin or their combination of synergistic effects, but there could well be more to celery than meets the eye.
Then we have the powerful flavonoid Apigenin. This anti-inflammatory glycoside is thought to be involved in the inhibition of lipoxygenase and COX activity and has been shown to relieve long term adjuvant-induced arthritis in rats.
Research also shows that Apigenin-7-Glycoside, found in celery and parsley, significantly inhibits LPS-enhanced inflammatory activity and exhibits anti-inflammatory effect through the MAPK and  NF-kB pathways. Down regulating Oxidative Enzyme Expression and Protein Activation through Inhibition of MAPK Phosphorylation.
Brain fog calming luteolin
The powerful bioflavonoid luteolin interferes with the mechanisms that can start brain inflammation or brain fog as we like to call it.
Director of the University of Illinois Division of Nutritional Sciences Dr Rodney Johnson, suggests that brain inflammation "appears to be a key contributor to age-related memory problems."
His research on immune cells called microglial cells, found in the brain and spinal cord, discovered that infection could release cytokines and cause chemical shifts toward inflammation.
The observed chemical changes resulted in a depressed attitude, sleepiness, a decline in memory recall, and appetite loss.
These latest findings build upon his team's earlier research which found that "microglial cells become dysregulated and begin producing excessive levels of inflammatory cytokines."
The team believes this is what ultimately causes neurodegenerative disease and contributes to cognitive aging.
The brain and inflammation benefits of luteolin are potentially wonderful news for anyone with any kind of inflammatory arthritis, not just rheumatoid arthritis.
Calming your Nervous System
Sufferers of stress-related disorders or anxiety will benefit from taking celery juice in their diets because of the nervous system calming alkaline minerals it contains.
Let's be honest, we're all prone to a little stress and worry.  Why wouldn't we be?  Disease is the stress game after all!
It doesn't seem to matter how much we calm our nerves with meditation and relaxation techniques, the doubt and worry about what lies ahead always seem to reappear when we're being challenged the most.
We have to work at that, but including celery in your diet can help to calm the nerves.
Stay calm, have the faith to believe things are going to get better and promote relaxation with every thought and food you eat.
Managing stress that way gives you an amazing head start on any disease. Add quality sleep, relaxing teas like camomile and the wonderful Rhodiola mushroom and you should be good to go.
Health Benefits of Celery Juice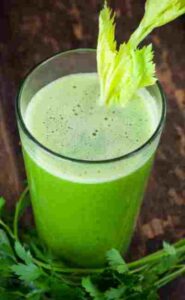 Relieve Bronchitis
Ease Gout
Fight Cancer
Lower Cholesterol
Aid Digestion
Act as a Diuretic
Fight Inflammation
Lower Blood Pressure
Cure Insomnia
Relieve Asthma
Lose Weight
Prevent and Eliminate Stones
Boost Sexuality
Calm the Nervous System
Alleviate Menopause Symptoms
Alleviate Allergies and Fever
Celery juice nutrients
Celery is a nutrient-packed food. According to the United States Department of Agriculture (USDA) National Nutrient Database, one cup of sliced celery contains:
Calories: 18
Total Fat: 0.17g
Sodium: 76mg
Total Carbohydrate: 3.63g
Dietary Fiber: 1.6g
Sugars: 1.44g
Protein: 0.69g
Vitamin A: 319 IU
Vitamin C 3.0mg
Calcium 40mg
Iron 0.22 mg
Celery juice benefits for gut health
Celery juice is an important part of managing chronic acid reflux, as it helps to reduce the symptoms of this condition. Low hydrochloric acid production is caused by a lack of stomach acid, which can lead to undigested food remaining in the stomach and causing uncomfortable symptoms. Celery juice helps boost hydrochloric acid production, aiding digestion.
Additionally, celery juice has antibacterial properties that fight against unproductive bacteria such as strep and E. coli that accumulate in the gut and cause acid reflux symptoms. Lastly, celery juice helps strengthen the liver, which plays an important role in eliminating waste from the body and helping to reduce levels of toxins in the bloodstream that can contribute to chronic acid reflux.
Celery juice benefits autoimmunity
Many autoimmune diseases are thought to be caused by a combination of genetic and environmental factors, including infections, environmental toxins, and stress. The immune system triggers an inflammatory response to fight off these perceived threats, causing damage to the body's tissues.
Celery juice has been suggested to help fight autoimmune diseases by breaking down and flushing out pathogens that trigger inflammation. Pathogens are harmful microorganisms, such as bacteria and viruses, that can cause infections and trigger an immune response.
Celery juice contains a variety of nutrients and antioxidants that can boost the immune system and help fight off infections. In addition, it contains a unique type of salt called "sodium cluster salts," which are believed to have powerful anti-inflammatory properties and are suggested to be involved in many unexplained celery juice benefits.
Recent research has suggested that sodium cluster salts may help break down and flush out pathogens from the body, reducing inflammation and promoting overall health. This could be particularly beneficial for people with autoimmune diseases, as it may reduce the triggers for inflammation in the body.
Celery juice benefits for brain detoxification
Celery juice contains unique compounds called "sodium cluster salts," which are believed to have powerful detoxifying properties. These compounds are thought to bind onto toxins and other waste products in the liver and draw them out of the body through the urine.
Toxins, such as heavy metals, chemicals, and pollutants, can accumulate in the liver over time, leading to inflammation, cell damage, and impaired liver function. This can further lead to a range of health problems, including liver disease.
Research has suggested that celery juice may specifically help the liver by neutralizing and flushing out neurotoxins, dermatoxins, and other viral waste. This could help improve liver function and prevent damage caused by toxic buildup.
 Conclusions
Celery is a great source of arthritis-busting nutrients that can clear brain fog and reduce inflammation.
There are drawbacks such as the potentially high levels of pesticides, but to be safe we should try to eat organic if possible if we want the full range of Celery juice benefits.
Another potential problem for some people is the taste. I think the taste is a valid trade off for the amazing Celery juice benefits that are conveyed and I really mind taking the gulp.  The truth is you won't find a better hydrating or more refreshing arthritis green juice.
Celery is widely available and inexpensive too, so why not add these Celery juice benefits to your day?
Have you had success with celery juice? Leave your comments below if you've received celery juice benefits in your condition.
If you love juicing and need to see more arthritis juicing content come and read through our juicing articles here
Sources:
http://www.ncbi.nlm.nih.gov/pubmed/9143691
http://europepmc.org/abstract/med/18937165
http://informahealthcare.com/doi/abs/10.3109/13880208509070685
https://kb.osu.edu/dspace/handle/1811/36566
https://www.healthline.com/health/food-nutrition/health-benefits-of-celery#Article-sources
https://www.liversupport.com/celery-benefits-your-liver-and-beyond/#references
https://eatwellenjoylife.com/celery-juice-detoxes-your-liver-and-heals-your-gut/
https://www.tandfonline.com/doi/abs/10.3109/13880208509070685